Our support forum is here for you 24/7 to answer any installation, customization or usage necessities. Your satisfaction is our happyness!
Pay once, get unlimited updates! Vlogger comes with automated update process for plugins and theme core files. No FTP required, no coding!
Outstanding step-by-step video manual to guide you through all the installation and setup stages of the creation process.
---
NO CODING REQUIRED
The Best WordPress Theme For Video
---
---
STEP BY STEP 2 MINUTES INSTALLATION
New to WordPress? No Problem!
---
---
CUSTOM DRAG & DROP COMPONENTS
Create Endless Combinations with Ease
14 Extra Visual Composer elements: 3 Post Templates, 8 Page Templates, 2 Playlist Templates, 2 Custom Slideshows, 3 Custom Carousels, 2 Custom Captions, 12 Buttons Combinations and much more!

---
VIDEO TUTORIALS TEMPLATE
Read While Watching the Video

With Chapters Menu and Video Cues
---
---
---
PLAYLIST & VIDEO SERIES
Create Beautiful Playlist with Unlimited Videos,
Grid or List Design
---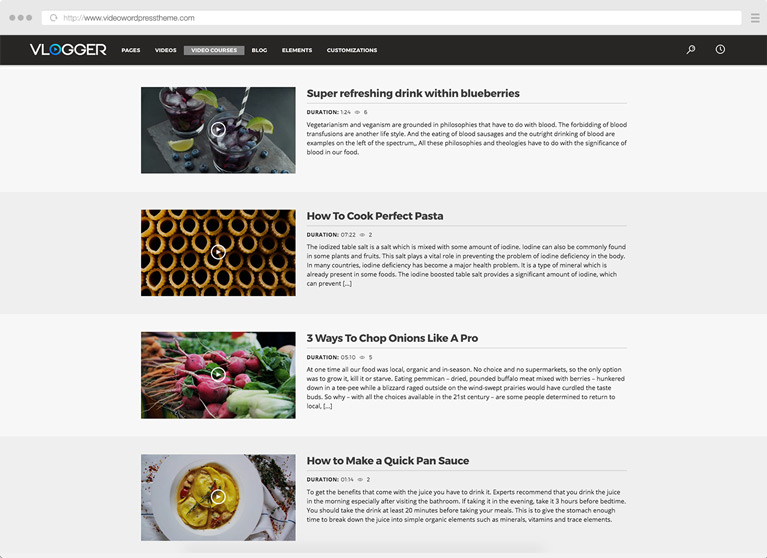 ---
Perfect For Any Usage
Video Series are perfect for simple playlists as well as for professional online courses, as you can craft beautiful landing pages in Visual Composer to properly market your professional classes.
Easy to Use
Create a new playlist and add your videos, that simple. With the built-in search box you can easily find the video posts to be listed in the serie, and reorder them via drag-and-drop. It's super intuitive!
Flexible Design
Choose among grid and list layout,  boxed content, with sidebar or fullwidth, and place playlists before or after the contents, to perfectly fit your needs.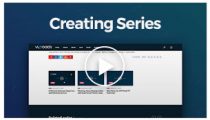 ---
---
INTERACTIVE CARDS
The Best Way To Display
Your Video Gallery, Video Portfolio and Playlist
---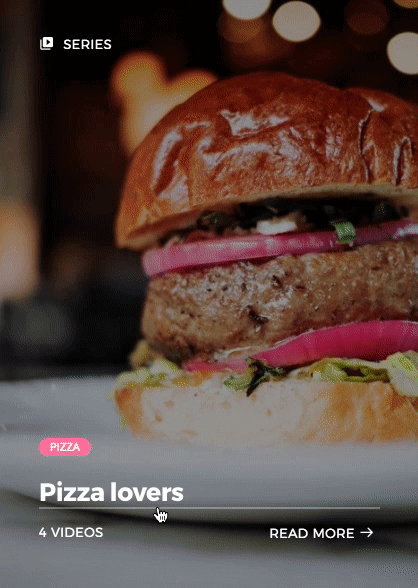 About Series Cards
The Series Cards create an amazing user experience, gathering all the relevant information together:
Serie description
List of included videos
Similar series by category
Usage Examples
Do It Yourself
Cooking Classes
Business Courses
Music Schools
Fun Playlists
Online Training Classes
---
---
100% MOBILE
Vlogger is Super Responsive!
---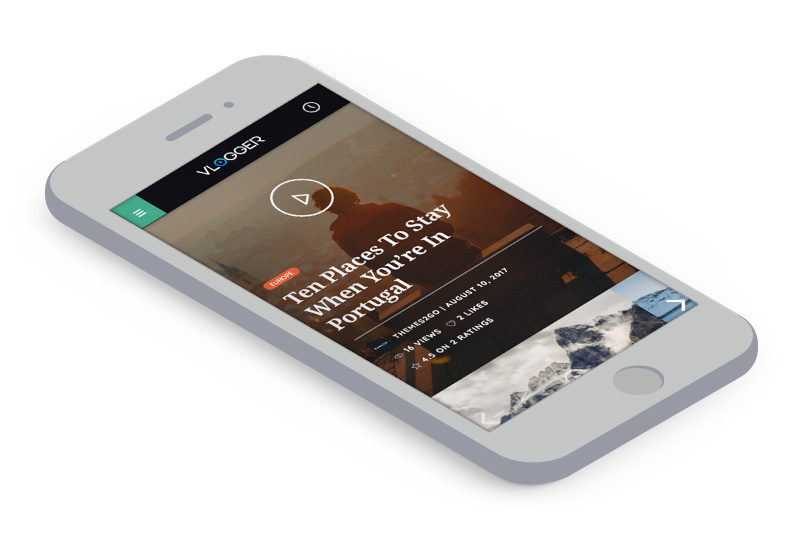 50% of traffic is nowadays mobile, that's why Vlogger was created with advanced responsive technology and mobile-first approach, for fast loading time and perfect usability.
Watch it on mobile, scan the QR code below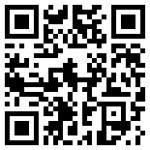 ---
---
DESIGN CUSTOMIZATIONS
Change Logo, Color and Fonts in Few Click
With Real Time Preview
---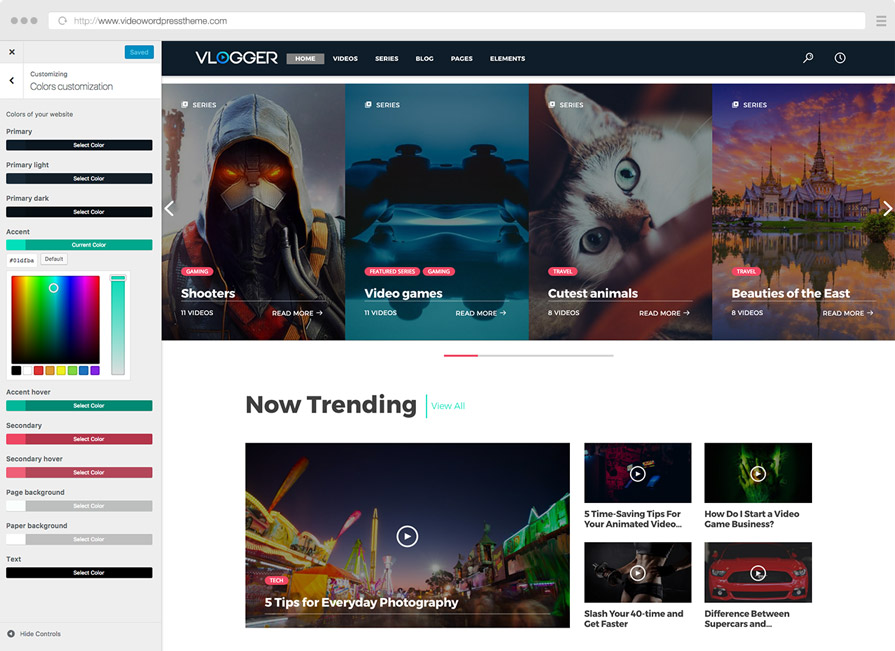 Easy to Edit
With the real time customizer you can change the aspect of your website without a single line of code, directly from the WordPress customizer, with real time preview before saving.
Header
Logo uploader
4 Menu layout
Default header background
Header opacity
Off canvas menu background
Watch Later
Search
Secondary header bar
Call To Action
Youtube "Subscribe" button
Colors
Primary
Primary Light
Primary Dark
Accent
Accent hover
Secondary
Secondary Hover
Page background
Paper background
Text color
*Based on Google's Material Design.
Typography fonts
Font base
Bold
Headings
Menu
Metas
For each font option you can choose font family, variant and letter spacing.
Choose among 600+ Google Fonts!
ReAktions Settings
ReAktions is our bundled plugin to easily implement post views, likes, shares and ratings.
You can choose which services to use and where to display the ReAktion elements for each post type or page:
Show in header
Show before contents
Show after contents
Social Icons
Amazon
Beatport
Bebo
Behance
Facebook
Flickr
Googleplus
Instagram
Itunes
Linkedin
Pinterest
Vimeo
Youtube
And many more!
Banner manager
You can manage ads via Customizer for 12 different locations:
Menu bar
Below header
Before post content
After post content
Before page content
After page content
Before sidebar
After sidebar
Before archives
After archives
Footer
Fly out
Menus
Customize your menu via Drag And Drop menu manager and choose your menu among 3 available locations. The main menu supports 3 depth levels.
The available locations are:
Main menu
Secondary header
Footer menu
Footer
Show/hide footer widgets
Background image
Copyright text
Post settings
Video settings
Auto video detect
Auto video header
Hide first video from content
Enable Twitch support
Series settings
Playlist position
Playlist design (list/grid)
Content layout (boxed/unboxed)
---
---
WATCH LATER FUNCTION
Engage Your Visitors With Better User Experience
---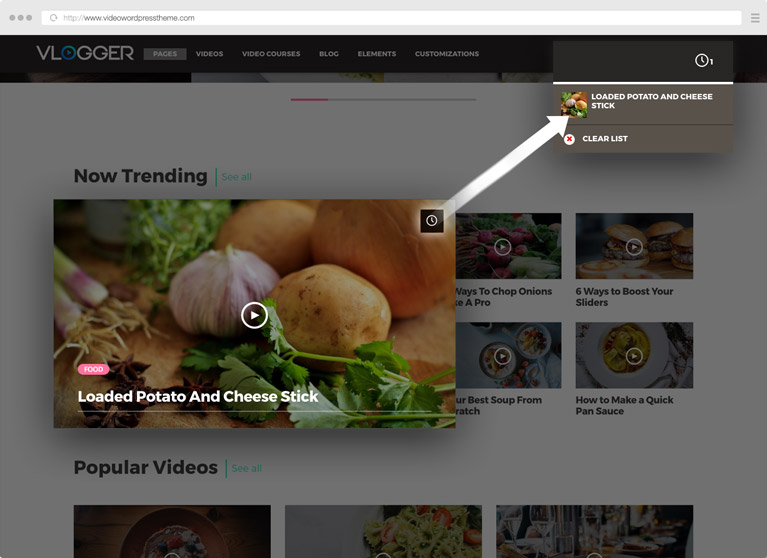 Add Videos to Your Playlist
Enabling "Watch later" an icon will appear on the posts and in the header bar, so users can bookmark interesting contents for a later fruition.
This function is very important to create returning traffic and increase the time spent on site, multiplying your monetization possibilities.
---
---

YOUTUBE VIDEO IMPORT
Import your Channel or Playlist in Few Click
---
Posts Creation on Steroids!
Set any source as a YouTube users, channels or playlists, import the videos in a click and create your beautiful website in seconds.
---
YouTube Channel Subscription
Increase your subscribers by adding a Youtube Subscribe button. It's super easy both for channels and for users.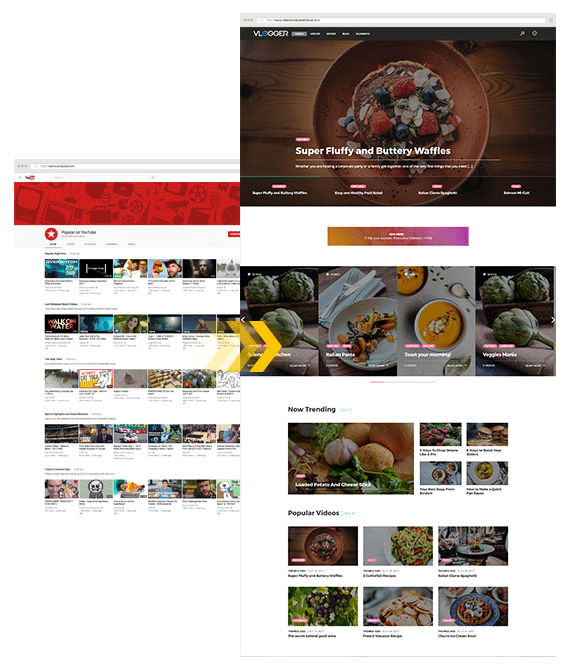 ---
---
LIKE, SHARE, RATE
Add Interactivity With

Social Networks Video Sharing and ReAktions!
---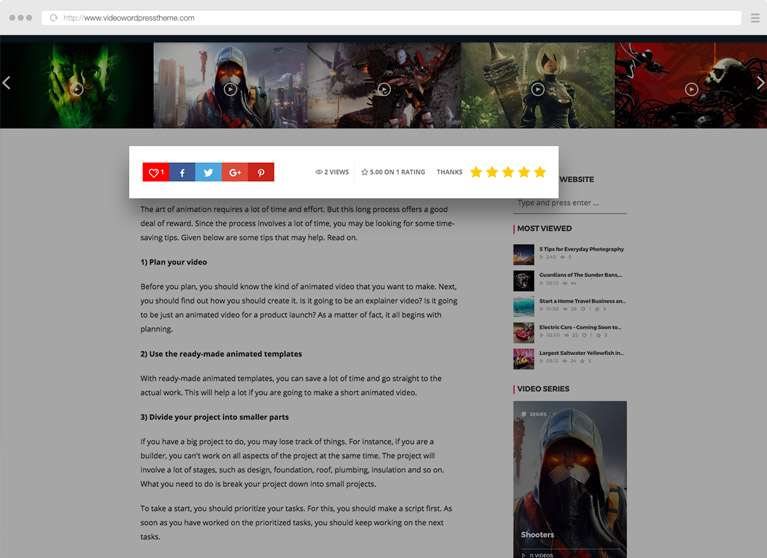 User interactions, Rating, Views
The bundled T2G ReAktions plugin integrates perfectly with the Vlogger Video WordPress theme and adds tons of interactions as:
Social sharing
Post Like/Love
Number of views
Star rating
---
MONETIZE YOUR VIDEOS
12 Ads slot available
with live customizer and shortcode support
---
---
---
TWITCH SUPPORT
The Best Solution For Gamers
Automatic Twitch embed with video cues, perfect for games walkthrough, commenting and professional gaming websites
---

---