Responsive Video WordPress Theme
Vlogger is the perfect video WordPress theme for YouTubers, Video Tutorials, Online Courses and video blogs
---
---
---
---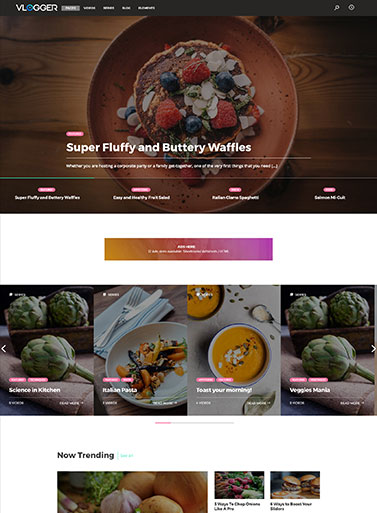 ---
Vlogger Food is perfect for any food blogger boosted by the innovative tutorial template
---
---
---
What makes Vlogger So Special
---
---
The installation process is totally automated, made it easy by the on-screen instructions
---
---
You can build your website easily by choosing one of our pre-installed demo
---
---
Easily change logos, menu template, colors, typography, and much more in few clicks
---
---
Create a beautiful video tutorial with in-video time bookmarks!
---
---
Manage videos and series with ease! Create unlimited playlists with unlimited videos
---
---
Place your ads into the 12 slots available (HTML or shortcodes)
---
---
Automatically embed twitch videos and create beautiful gaming tutorials
---
YouTube Subscription Button
---
---
---
Adds interactions like post Like/Love, number of views, star rating with our included plugin
---
---
The "Watch later" icon will appear on the posts and in the header bar for videos bookmarking
---
---
Create endless layout possibilities with 14 custom drag & drop Visual Composer shortcode
---

---
Perfect for YouTubers
This Video WordPress Theme is perfect for YouTubers that want to monetize their videos. In fact with the recent AdPocalypse, many videos are not eligible for displaying ads, but building your own website offers such a big amount of other possibilities that as professional video blogger you can increase your revenue even more.
This Video WordPress theme, in fact, has 13+ ads slots, supporting any image, shortcode or affiliation system. You can display ads in header, footer, sidebars and fly-out.
This theme is also compatible with the YouTube video importer plugin, which means you can import an entire YouTube channel, playlist or user in few seconds and build an entire website automatically!
Start monetizing your videos now: buy Vlogger on Themeforest
WordPress Video Galleries
Building a video gallery in WordPress can be complicated or require extra plugins that sometimes don't fit properly with the theme you are using. With Vlogger — Video WordPress Theme you have a built-in gallery system to create beautiful video gallery pages in seconds, and its structure is very powerful by the Search Engines point of view, to increase your visitors from Google and reach more people!
With Vlogger it's possible to add any video to multiple playlists, reorder them, and choose the layout of your video playlist between grid and list, in order to fit the perfect style for your gallery. In fact you can create 2 types of video galleries: list and grid. With the list gallery the user can read the introduction for the videos, perfect for tutorial, courses or technical contents, while with the grid view it is possible to display more videos in a compact style, perfect for large playlists and for the cases when the thumbnail is already perfect for the user.
WordPress Video Portfolio
A video portfolio is the perfect tool to showcase your projects, as with videos you increase the engagement of the visitors and can create a higher level of connection with the user, that will stick to your portfolio and understand in deep the quality of your work and services.
With Vlogger Video WordPress Theme you can create stunning grid or list video portfolios, but more important you have full control on the entire structure of the page. In fact you have a default boxed template but you can optionally switch your portfolio to a sidebar template or a full width page, which allows you to create a stunning page from scratch using Visual Composer, for endless possibilities.
The video portfolios created with the Vlogger Video WordPress Theme are perfect to display your projects, services or display online courses of any kind. With visual composer it's easy to create stunning landing pages or sale pages for your products, increasing conversions instantly.
Say goodbye to the old video portfolios, say hello to Vlogger!
---